Weight Loss & My Bad Attitude
I have a bad attitude when it comes to weight loss. On one hand I know that I need to get healthy for myself and my family. I want to feel better. I want to look better. Having more energy and buying cute clothes are all worth losing weight and getting healthy.
Then on the other hand is the bad attitude that I have. The side that says I am too old to worry about losing weight. The one that says I have worked so hard all my life that I deserve to just be happy with how I look and eat what I want. This bad attitude of myself has several flaws. First, this side has one image of myself in my head only to be brought back to reality by looking in the mirror. Oh snap! I forgot I was fat. I forgot I was older. Honestly, part of the time, okay most of the time, I don't think I have aged or gained that much weight until I pass a mirror and realized it has happened and I am looking more like my mother.
Which side is going to win? Which side has to win? The side with the good attitude that wants to get healthy. My doctor said I have to get healthy. Not being able to fit in my clothes says so and not being able to get up off the couch like I used to. Let's not forget that I have started to hurt. I hurt when I get up in the morning and I hurt when I get up after sitting so long. I hurt when I work in the yard. I am basically falling apart.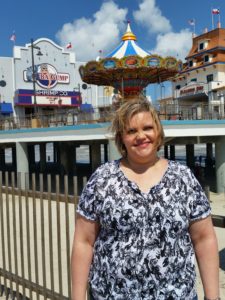 I am not going to count calories. I am not going to count carbs. I am not calculating macros. I am not giving up fruit. So, I am giving up sugar and flour. Let, me say that giving up sugar does not mean fruit and honey. I can't do that. What I will do is be more disciplined in planning my meals, making sure my meals are whole foods with no processed ingredients. To your surprise, I am sure after reading this post, I am going to exercise. How about that? See, that should work to fix my bad attitude…right?
Starting April 1st is when my lifestyle begins. No more standing in my own way. No more excuses. I want to feel and look as good as that image in my head is. Stay tuned to this new journey. Each week I will share what I ate and my weight and my measurements. I am putting it all out there. If I can do it then so can you!